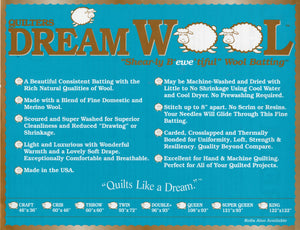 Dream Wool is made with a Scoured and Super Washed Domestic & Fine Merino Wool long cut tops.  The fibers are blended, carded, crosslapped & thermally bonded.*  The wool is scoured and super-washed for superior cleanliness and to eliminate shrinkage and felting.  Quilters Dream's unique processing creates wool batting with exceptionally soft drape, uniformity and strength. Dream Wool is a beautifully consistent batting that is truly a 'cut above'.  
Quilters Dream Wool Features:
Light, Luxurious and Wonderfully Warm with a Lovely Soft Thermal Bonded Loft of more than 1/3″ that beautifully accentuates your quilting. Excellent for Faux trapunto. For a higher loft Dream Wool can be double layered  with Dream Battings needle punched battings.

May be Machine Washed and Dried on cold setting without shrinkage. To prevent loosing the beautiful loft – avoid ironing or using heat. 

Confidently stitch up to 8 inches apart. Dreamy to Quilt. No Scrim or Resins to Resist Your Needles.

Resistant to Creases? Fluff in a 

cool

 dryer with a damp cloth for just a few minutes if creases are present, and Dream Wool springs Back to its Original Loft.

Quilters Dream Wool is Exceptionally Durable, Rich and Resilient Ensuring that Your Quilts will be Treasured for Generations.

Dreamy for Hand and Machine Quilting. Also Excellent for Tied Quilts.
Available in:
1) 93" wide (usually suitable for Queen-Sized quilts)
2) 122" wide (usually suitable for King-Sized quilts)

Unit: Half Yard: 18″ x 93″ or 18" x 122"
If you select multiple quantities, yardage will be combined and cut as a single piece.
E.g. Quantity = 4. You will receive a 2-yard cut.
Minimum cut is .5 yd. Price is per .5 yd
Any amount over .5 yd may be ordered
*Thermal Bonding is a process that interlocks the fibers through the use of heat energy. For Dream Wool and Dream Puff, we use a special fine denier low melt polyester for the thermal bonding. Thermal bonding is an environmentally (absent of chemical resin binders) favorable technology.
The heat in the thermal bonding process softens the surface of the fiber. At the melting point, fibers in contact with each other will form strong bonds, which secure the wool fibers, preventing shrinking, bunching, and shifting. When this is cooled the bonding points solidify and ensure the strength and performance of the batting. Should not be ironed or used in a hot dryer.