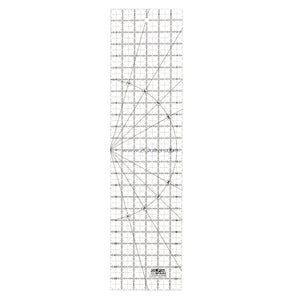 Non-Slip surface for stable and safe cutting.
Frosted acrylic surface with black numbers and compass pivot-point angles for clarity on light and dark colour fabrics.
The ruler allows the user to make precise measurements and cutting angles during sewing and quilting applications.
6" x 24" Inch grid model. This ruler is essential for quilters to cut width of fabrics (44"/45" folded into 1/2) without having to shift or move your ruler.
Accommodates both right- and left-handed users.
*Ships within Singapore only