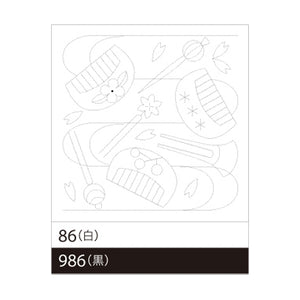 Select Fabric Colour Options:
1) White 
2) Black
Completed dimensions 33cm x 33cm
The sewing lines are clearly marked on the fabric and will wash out after you have completed the stitching.
Hana-Fukin means a little kitchen towel. Besides turning this into an utilitarian cloth, you can also sew it into a bag, cushion cover or even table cloths or place mats.
Threads, needles and thimbles are available in our store separately.
The design is pre-printed on the fabric. Markings can be removed by washing.

Made in Japan by Olympus.